The educational offer
of Camp Gulliver
Our mission
Passion for education
Campo Gulliver's offer is inspired by its foundations of the scout educational method. The experience lived by children and young people is not therefore the usual holiday proposal, but it is a way to live together in camps for kids educational method which guests are not users of a service, but the protagonists of an adventure that exploits the potential of nature and of the forest to carry out activities that help character formation, discovering its own positivity. At Camp, the active participation of children and young people is encouraged and in doing so they become the main "actors" of their growth.
Camp Gulliver is not for kids… Camp Gulliver is the kids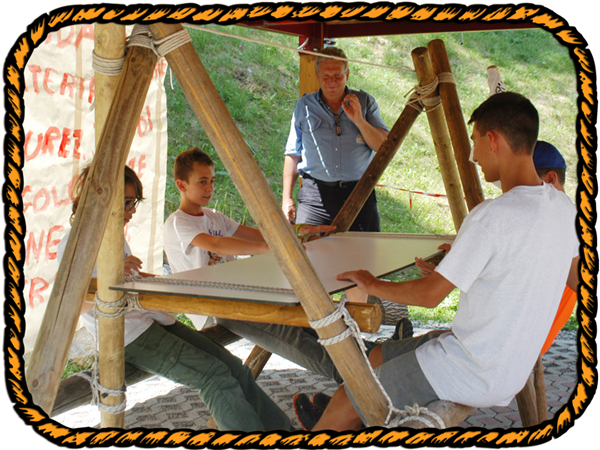 An offer to grow
a community experience!
Our reference values are:

the ESSENTIAL view as the art of learning and having fun with simple things and discovering the usefulness of each of them
AUTONOMY understood as the ability to observe and deduce situations around oneself to choose autonomously, distinguishing what is right or wrong
the RECIPROCUS RESPECT seen as the ability to see in the other an opportunity from which to learn and grow through comparison
Having its foundations in community life, the Camp is characterized by a climate of respect and of putting into play the skills of each and the educators, solid brothers to refer to, they pay attention to recognize the aspirations and difficulties of each and to foster a climate of mutual acceptance.

The proposal of out camps for kids educational method is to have fun, becoming the protagonists of an experience in which everyone learns to face new situations, organizing themselves with the resources of nature to live the life of the woods and contributing to the birth of a new community.
An adventurous place
a valid educational experience!
A special holiday
suitable for children and young people!
Children and teenagers stay at the Camp divided into different subfields by age group (7-11 / 12-14). Each sub-field carries out its activities and its own daily life autonomously and is made up of different teams of 5/6 guests each (monosexuals in the teen camps).

As a consequence, the activities, methods and experiences experienced by each sub-field are adapted to the different needs and potential of the respective children and young people.