The Camp
A container of experiences
Immerse yourself in the nature
a comfortable facility for camps!
The Camp is the place where the educational experience lived by children and young people takes place: it is the container of their experiences! The structures of the Campo, unusual and captivating, are a setting suitable for children and young people adapted to their needs and to the life of the community… The facility for camps is welcoming and comfortable, harmoniously inserted in the natural and mountain environment… large lawns and a large forest!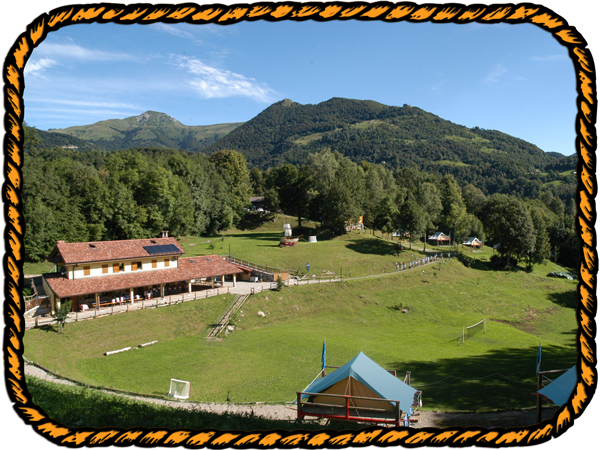 Alpine cabin
The recently renovated beautiful lodge hosts children and girls from 7 to 11 during summer camps, while in winter stays it is accommodation for all ages.
It extends over several levels and upstairs guests sleep in dorms divided by gender.
The cabin is equipped with large spaces inside that guarantee the perfect performance of the activities and the ideal conditions of accommodation even in bad weather.
Overhead Tents

They are the pride of Camp Gulliver! In summer they host the boys and girls from 12 to 14 years and, for the first days of Camp, the young people of the Master. The tents, comfortable and safe, guarantee the solution of the logistical problems typical of a tent on the ground and the needs of intimacy. The large and protected space below for the consumption of meals and team activities, offers an intimate and unique corner. Each tent welcomes a single-sex team of 5/6 guests.
Other environments for activities
These are the elements that make the Camp an even more suitable place for children and young people, allowing the development of adventure activities in contact with nature and daily entertainment.
These include two large covered facilities and a comfortable tensile structure at the camping area for activities in case of bad weather, the soccer field and the volleyball court, the botanical path and the evening bivouac circles, equipment for shooting with
the arch or the observation of the night sky …
Adventurous scenographies
They recount the adventures of the Campo during the many years of activity! They recall the fantastic settings with which children and young people have dreamed and imagined characters and stories and make the Campo an exciting and adventurous place to immerse yourself in with the greatest desire!
In the structure of the Camp, particular attention has been paid to the needs and to the hygienic-sanitary conditions, and is therefore equipped with:
Field secretariat

Standard kitchen

Local health

Sinks for crockery

Sinks for linen

Large M / F toilets

Showers with plenty of hot / cold water